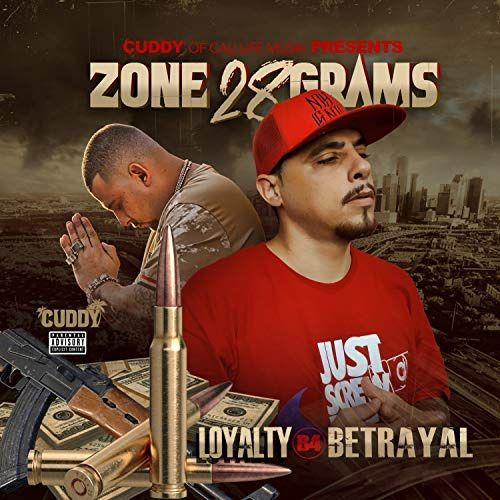 Northern California has always been a scene apart from the rest, pushed forward by Woodie (RIP) back in the late 90's, the artists from this area have always stayed true to tha Funk.
Zone 28 grams is originally from Houston Texas but his project does not make an exception as it is released by the Antioch record label based Cali Life Musik. After dropping interesting releases like the H-Town to the bay compilations, Celly Cell & San Quinn "Bays Water Run Deep" or his "Mob Music", CEO Cuddy brings here a solid album on the table. Production is handled by another Yoc town resident Kev Knocks, wellknown for his work for Big Tone – Sav It Out Records and in order to assemble all these fine ingredients the legendary K-Lou is on the mix.
This album contains different vibes, tracks like "All Screw Up" or "Nothing but a G thang" with heavy bass and G-Funk whistle will definitely make your head bop and turn up the volume. Female singed chorus "Cut 64 " is a dope laid back track whereas "the hate is real" or "1 deep" will be enjoyed by all the listeners looking for gangsta shit. Music is at his best when it can motivate and inspire you, "Gotta be a G" with a great singed hook by Missippi is a banger and will make you push it to the limits. Zone keep it real in his lyrics and make you feel the top and down in the life of a G, he doesn't have a technical flow but it gets along perfectly with the Kev Knocks beats.
One other point to be noticed, in our era of poor commercial rap where most of the beats are produced by a geek and recorded in a bedroom, is the high quality of the Loyalty B4 Betrayal sound. Instrumental, voices and chorus are clear and at the right level, it requires infrastructure and skills, Cuddy has invested in his own studio and brought one of the best producer of all time to mix and master it as the person of K-Lou. So be sure to cop it in CD format in order to enjoy it to the fullest.
A few more tracks would have been welcomed but quality is always better over quantity so this Loyalty B4 Betrayal got a good place in the top 10 of the 2018 G-Funk releases !
You can get your hardcopy and the rest of the Cali Life Musik catalog at GalacticDistro.com.