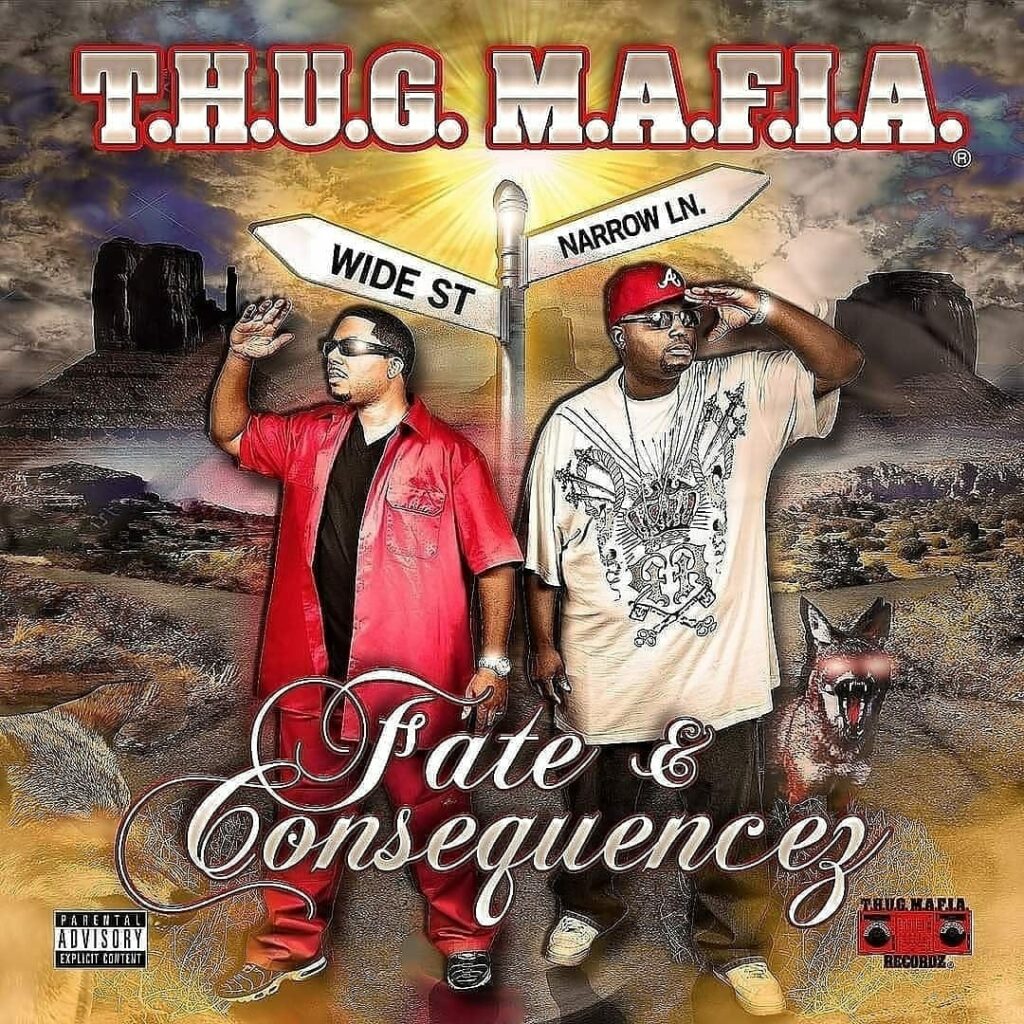 For those who don't know, T.H.U.G. M.A.F.I.A. (The hardworking underestimated geniuses making all finances in appropriate ways) is a Southern hip hop duo out of East Point, Georgia consisting of Rockford, Illinois native Benjamin "Death-Trap" Gulley and Atlanta, Georgia native Kevia "K-Steel" Stills. The group formed in Atlanta in late 2001, performing at local clubs and major music venues in and around South West Atlanta. 
In 2011 the duo released their debut album, Eternal Thuggin on their own label, THUG MAFIA RECORDZ, and now, after 10 year break, they are back at it again with their sophomore album, this time being double disc – Fate & Consequencez. The album came out very much well balanced and uniform all the way though and doesn't really feel like it falls short at any point while listening to the both discs, and after all, you come to undrestand why the duo took so long time to put out this album: they had polished it very nicely to come up with the high quality product for their fans and new supporters. 
Here's the message Death Trap wrote specially for this post: "Thanks for all your support!Me & K-Steel appreciate all our fans who bump our music World Wide. On this project we decided to put 20 tracks on this album which is way more than we did for Eternal Thuggin. I'm proud to say that I handled most of the production on this project but as a producer I'm still growing & learning in this field. I admit I have a long journey ahead before I can reach the status of my idols: Dr Dre, DJ Battlecat, Fred Wreck, Mike Dean, Easki, & The Mekanix however I wont count myself out. I'm always willing to learn though. I'm here to stay & will eventually create my own sound my with my own identity. As far as the album credits, of course me & K-Steel did our own writing. We brought back a familiar face Marcus Singleton, we worked mostly with him by him being the main producer on Eternal Thuggin. We also worked with Legendary Producer Wadz who remixed our classic "Midnite Creep" which appears on the album. We also brought back Turntablist DJ MR NICE, he made the cutz on Midnite Creep. We was also able to link up with Bay Area Turntablist Kodac Visualz from the group Asthma Funk to add cutz for our controversial single "Officer Enemy ". We made sure this album had more featured guests which includes a track entitled "Weight off ya chest with Legendary West Coast Rapper MC Eiht of Comptons Most Wanted. This track was actually done a while ago but me & K-Steel decided to finally put it out.
Me & K- Steel are currently working on the next group project entitled "Unsolved G'z" along with our solo projects " Kolor Koordinated" & "Steel Thuggin" respectively. Lastly, we want our fans to tune into Pandora Radio 📻 & listen to THUG MAFIA Radio. Our fans know our tracks, Gfunk Ova Crunk, Midnite Creep etc."
You can listen to the album on the main digital platforms including Spotify, or cop the double CD by hitting 'em at their Facebook and Instagram pages.