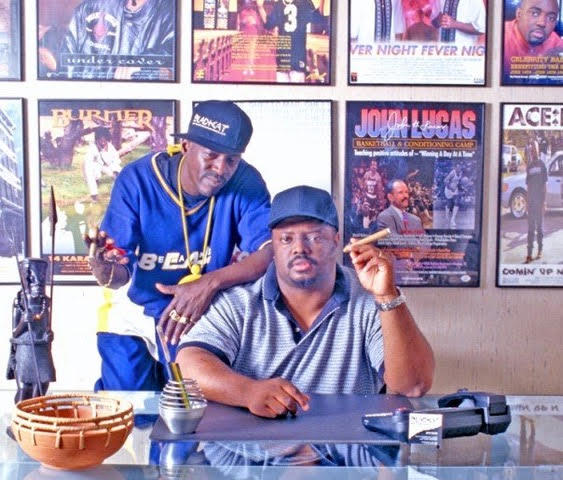 G-FUNK.WS: Wassup Clyde. Would you let us know how & when it all started for you with the graphics designing and artwork direction? 
BLACKAT: I been designing since I was 8 years old. Drawings here and there. It's when I entered High School in Port Arthur, TX that's things started coming alive. Designing T-shirts for the school and I was chosen to re-design our football team Logo and Uniforms that hardly been changed since 1986.
G-FUNK.WS: What did you do before you went into graphics?
BLACKAT: I always did art, from Stain glass windows to sculptures to murals and T-shirt designs. Art has always been the way I made money.
G-FUNK.WS: We have peeped your Instagram, you got a lot of old photos of yours with or related to some celebrities, how did you come to know them all? 
BLACKAT: I've been learning about music history all my life. I grew up in a house where my parents and grandparents partied and listen to music, stuff like The Doors, James Brown and Tom Jones. But it was when my grandparents got me a Vinyl Record player and give me old Blues records I started asking questions about the music. So, by the time I left High School I was a walking music encyclopedia and would win music Trivia Contest. When I moved to Houston and started going to the Art Institute I met a student there whose family was in the concert business. He was blown away of my knowledge of music and asked me have I ever seen any of the artist or groups Live. At this point I've never seen a live show or any type of concert ever. So he took me to my very first concert to see Fleetwood Mac, he took me back stage for the very first time and I was hooked. From that point I knew where I wanted to be and what I wanted to do was be around music. As a 19 year old Black kid with a history of music like no other I was like a Unicorn to them but growing up around old people taught me how to converse with people beyond music and artist just took a liking to me, plus having knowledge I knew about the personal things about each artist. Most would sit down and tell me about their lives. Those was my tools to create a job position for myself. Whatever the artist needed there was a list. Well if I knew I wanted to impress them, I had to go above and beyond my Job duties, fix the tiny holes and details most people would leave off, to make their life on the road a little better sometimes. That was always appreciated, to have that one person out of everyone that would help them with things, they couldn't talk about but had to get done. Like send cash to a family member or picking a girl out the crowd to help shopping for wardrobe or being there on stage to run messages back and forward to make sure they had towels and water to stay performing. I even helped some artist with wardrobe and set changes. Over time being on the road, you don't see each other as a artist and a worker, you become a family, going for city to city.  For years I was the youngest in the production crew at age 20 in the entire music business. Rock legends became mentors and friends over time.
G-FUNK.WS
: How many people have been working in
Blackat Productions
? Can you give us some idea on your artwork creating process?  
BLACKAT
: That process comes from listening to the artist' ideas. As in the conversation, right in that moment I'm creating the cover in my head, down to all the details, the next step is putting it down to print. I'm the only artist in
Blackat Productions
that designed, I designed props, scouted locations and rented cars, boats and helicopters – I did production like a movie studio but for album cover. I've been designing Covers almost everyday since 1993 even on Christmas days, I work. I just love what I do. If I hit the Lottery I would still do this but maybe give more away. But until that dream happens, I gotta eat.
G-FUNK.WS: What kind of equipment have you used for photography & artwork design?  
BLACKAT: Computers have always been Apple Macs. Software is all the same basic shit every designer uses, from Photoshop to Illustrator. But Computers and software are only tools to me like a hammer and nail. You gotta have an imagination to create, your hammer and nails can't think or build for you. Before computers, I was designing posters, ads, covers and T-shirts. Some Technology has helped the process move faster to do more work, but there are still some things as a creator as the technology hasn't caught up with yet.
G-FUNK.WS: What's your favorite CD artworks you've ever designed? Were there any interesting stories behind? Is there the only one artwork you still like most? 
BLACKAT: As crazy as it sounds, there is no favorite, I'm always designing to do better. I always look for the next to make it better, more challenging. I never wanna do the somethings over and over because it's easy, I get bored fast. I gotta have a challenge.
G-FUNK.WS
: What you got to say about
Pen & Pixel Graphics
? They're also from Down South and seems like they might have been your competitor…
BLACKAT: It takes great competition to make you great, but when you break it down, we both where 2 different companies, Pen and Pixel was a design and marketing firm. You go in, do a green screen photoshoot and you background was selected from CDs from Shutterstock or other Clipart companies. They had a stuff of 10 artists under the art direction of Shawn Brauch. This is how a normal Design and marketing company works. They where great businessmen and very successful with Public Relations. Now me on the other hand. I was Blackat, the artist, Blackat Productions. I saw myself creating a big production, wardrobes, locations and sets. I was a master at cut & paste, photo-editing, hell I was picked as one of the first Beta Testers for Photoshop to help make design suggestions in its software. But just because I'm good at something doesn't mean thats all I can do. Why to use clipart of things that's not you or represent your city. Every artist is different. So I pushed to get the artist vision out in a way to stand the test of time and not just another product with a RED SKY of the factory lines. Like I once told Shawn in 2015 when he decide to troll me out the blue. Don't be mad at me because you sent the press to my office and it back fires. I am an Artist, you was a design company. Companies go out of business everyday. Have you heard of Picasso going out of business orVincent van Gogh closing his office. No artist don't go out of business and they don't steal others art and take the name off and add there own name to it. At that point I had to draw a line. It wasn't competition it was WAR!
 (to be continued)