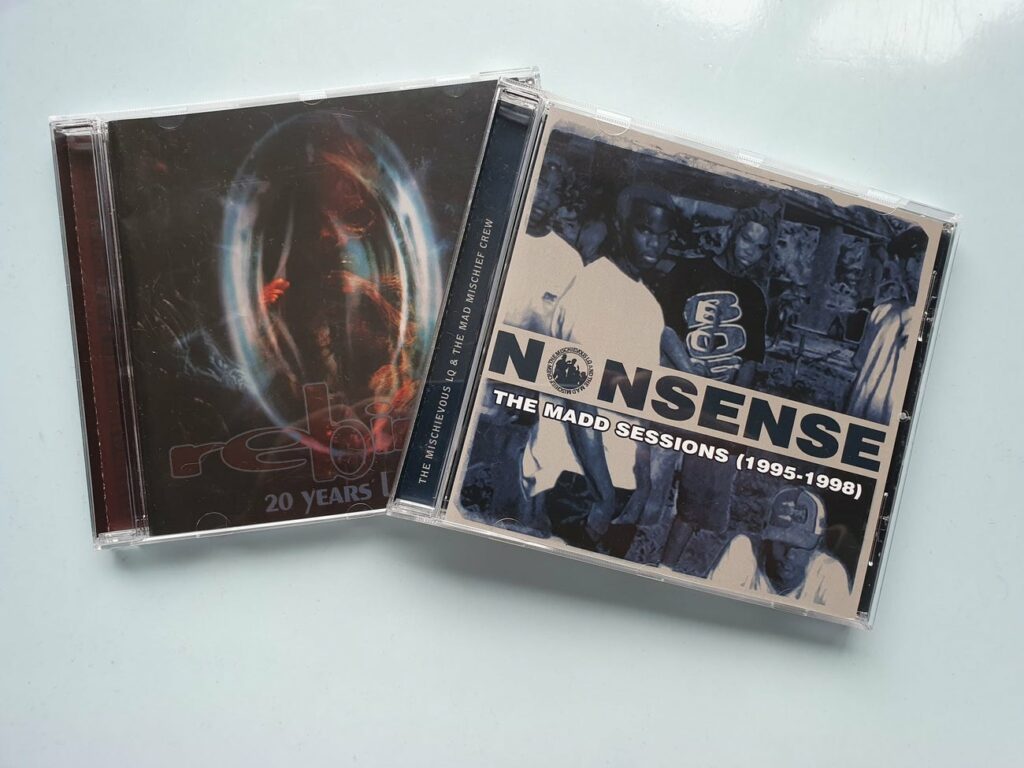 The Mischievous LQ & The Mad Mischief Crew – Nonsense: The Madd Sessions (1995-1998)" CD (2020, DDR006, Dust & Dope Recordings)
Featuring The Mischievous LQ aka T9, Skip Diesel, Mr Chill, Da Phantom, Vaughan Rowe Vero, Ra Dodge & AK Southpaw
Produced By Omar Kale
Limited Edition CD
Tracklisting:
01-Representing
02-Mischief Night
03-Shotgun
04-Battery Strategy
05-Live By The Dollar
06-Shotgun (Remix)
07-Wilmingtons Worst
08-Nonsense
09-Hip Hop Recarnation
10-Boyah Bumbaclot
11-It's Like That (Bonus Track)
12-Live Again (Bonus Track)
Previously only available on limited promotional cd on King Poet Records
Tracks 1-10 have been remastered courtesy of Dope Folks Records. We have also included 2 bonus tracks (11 & 12), sourced from the original CD.
Packaged with artwork for the very first time ever!
The Bomb Shelta Association – Rebirth 20 Years Later CD (2020, DDR007, Dust & Dope Recordings)
Featuring: Shylow, FEAR, Silent, Pillosnatchaz, Tekniq, Expertise, Protocol, Melicious D Emperor, Tyranny and GYNX.
Produced by: DJ Who Else, Shylow, Melicious D Emperor, FEAR & Tekniq
Limited Edition CD
Tracklisting:
01-Intro
02-Shylow-Rebirth
03-Pillosnatchaz-Neva Rest
04-Silent Pro-File
05-Expertise-Myth
06-FEAR-Eye Kill Suckerzz
07-Pillosnatchaz-Lost Artic
08-Protocol-Unorthodox
09-Shylow-S.T.O.M.P
10-Tekniq-Redrum
11-Tyranny-Joke's On You
12-Melicious D Emperor-Fuck Em All
13-FEAR Ft. Shylow-The Unholy
14-Shylow-More Than Life
15-Pillosnatchaz Ft. Tyranny-3D Emcees
16-Pillosnatchaz-Reflections
17-BSA-7 Deadly Ciphers
18-Gynx-Outro
Previously only available on limited cassette tape on Disturbed Minds Entertainment.
Sourced from the original masters, Rebirth 20 Years Later has been revisited and remastered by the Shelta's frontman Shylow, sequenced to fit a 74 minute compact disc, including 18 original selections from the OG tape. 
Make sure to cop these Limited Edition CD's at OFFICIAL DUST & DOPE RECORDINGS WEBSHOP shipped worldwide from UK.